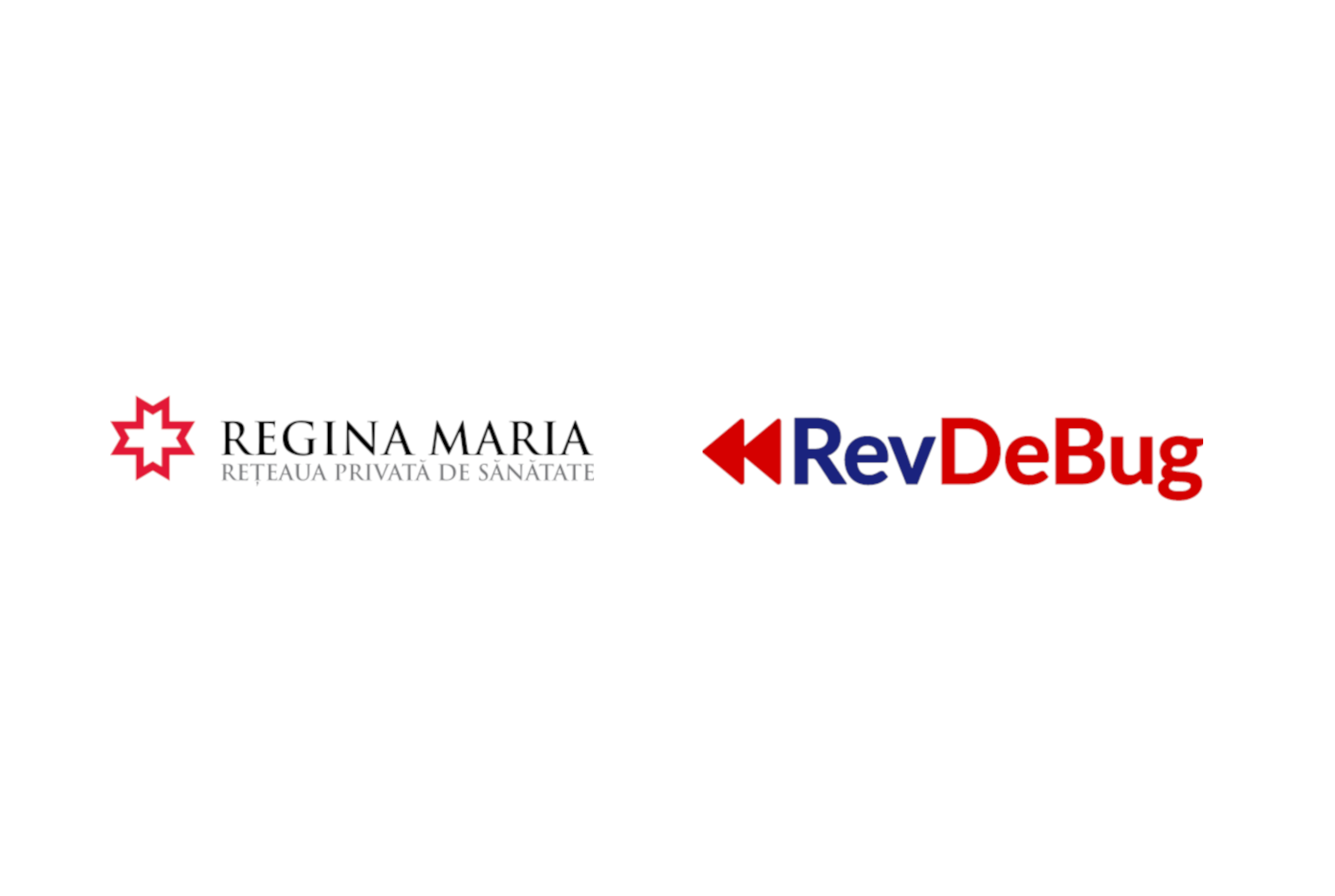 Regina Maria gains visibility into errors on its patient portal and decreases loading time with RevDeBug
Regina Maria is a leading private healthcare network in Romania. The company brings together 7,500 employees and collaborators and offers integrated hospitalization, surgery, maternity, polyclinic, imaging, laboratory and stem cell storage services to over 5 million patients.
Regina Maria was the first provider to launch corporate medical subscriptions in Romania over 25 years ago.
More recently, the company has developed specialized medical packages for SMEs and individuals. Currently, it manages a portfolio of over 720,000 subscriptions.
In the past 10 years, Regina Maria has invested almost 200 million euro in the development of the medical system in Romania by modernizing or opening new locations, purchasing high-performance equipment and training medical teams.
Regina Maria's challenges
Lack of visibility into issues that occurred in the code of the main patient portal and no historical performance metrics for theplatform were two of the main challenges Regina Maria was facing before it started using RevDeBug. As a result, the company was looking for a reliable APM solution to provide it with more data.
Alexandru-Cristian Baduca, Digital Applications Manager at Regina Maria, said that his team was "never aware of when we had performance issues and whether it was something that appeared after a release or compounded over time. Not having historical data, we didn't have any point of comparison".
A software developer by trade, Alexandru was well-versed in the world of APMs. However, the tools he was planning to test—New Relic and Datadog—were not fully compatible with Regina Maria's tech stack.
Why Regina Maria chose to work with RevDeBug
Given the confidentiality standards required in healthcare, Regina Maria needed a solution for which the on-premises installation is not an afterthought as protection of sensitive patient data is of utmost importance for healthcare providers.
According to Alexandru, "the fact that RevDeBug is agentless and it doesn't have to install anything on the environment is a huge advantage."
He noted that "what helped us with approving the solution internally was the fact that it doesn't send data outside of our organization. The product works on one of our servers, it is configured by us and we don't send any data externally. That was an important point in making sure we can get the green light for it from our legal and compliance teams."
To make sure that RevDeBug met all security requirements, Regina Maria carried out an internal security sweep of the staging environment as well as hired an external auditor to do a secondary sweep. As the checks didn't return any vulnerabilities, the company was confident about signing a contract.
Besides, Alexandru noted that RevDeBug "is also a tool that was developed specifically for .NET and Java, so it has a better integration than the tools I was looking at."
How RevDeBug helped Regina Maria solve its challenges
Although Regina Maria was looking specifically for an APM, the unique reverse debugging component of RevDeBug was nevertheless very useful for the team as it allowed it to quickly find and fix issues.
Alexandru noted that his team uses the time-saving Flight Recorder feature, which shows a video of the code execution where an issue occurred, in the pre-production environment.
Even though the flight recording functionality can also be used on production, Regina Maria chose not to apply it there due to patient confidentiality requirements.
Alexandru noted that RevDeBug "helps in debugging certain issues because we can see historical data regarding response time, the number of hits, etc. We can see how these metrics behave and decide if we have to make any changes or reshape certain flows."
As a result of using RevDeBug, Regina Maria was able to decrease loading times on its customer-facing web portal by 10 to 20%.
What Regina Maria says about the cooperation with RevDeBug
Alexandru noted that since Regina Maria has been on the market for about two decades, its tech stack required the company and RevDeBug to work on some adjustments prior to implementation.
However, it took Regina Maria as few as 16 hours to have the tool working on pre-production and just as little to be able to use it on production.
Even though certain obstacles occurred along the way, Alexandru pointed out that RevDeBug's tech team was always ready to help out.
"We received support on an as-needed basis. We kept in touch with Adam Kruszewski [RevDeBug's CTO] and he would either work with our team or have someone from his team work with us to help us with the implementation."
"It took us about one month to go to production with some internal validations, security checks and everything else we needed to do internally, from the moment we signed the contract", said Alexandru. He added that he appreciated the openness of RevDeBug when it came to working on the concerns of Regina Maria's legal team had and the help the company provided in making signing the contract as smooth as possible.
"What I really appreciate about RevDeBug, besides the help Adam and his team provided, is that when it came to our feedback on different legal issues regarding contracts, payments and other aspects, we had an open discussion and we sorted out everything without much hassle. Overall, it was a very nice experience as a customer both before and after signing the contract."
The future of the cooperation
Given how successful the collaboration has been to date, Regina Maria plans to use RevDeBug in the future as it begins a tech stack upgrade of its systems.
The benefits of continued partnership have been made clear by Alexandru, who said that "having a tool that helps with performance monitoring and at the same time collecting historical data comes in handy because you can compare the developments and how certain metrics behave in production, providing data that can inform our decisions."