Recording
What is this recording thingy and all the cool stuff you can do with it
Estimated reading time: 3 mins
Open the RevDeBug demo solution
With RevDeBug you can debug your local applications. Just open one of your applications or test it out with our Demo Project. It comes with RevDeBug and you can open it through RevDeBug Start-up page (RevDeBug Menu > Start Page). To do so, click the "Open the demo project" button.
Once the chosen project has been loaded, you can record a bug! On the right-hand side of your Visual Studio IDE you will see a RevDeBug panel which looks like on the image below.
If you can't see this panel, from the VS navigation bar choose REVDEBUG > RevDeBug.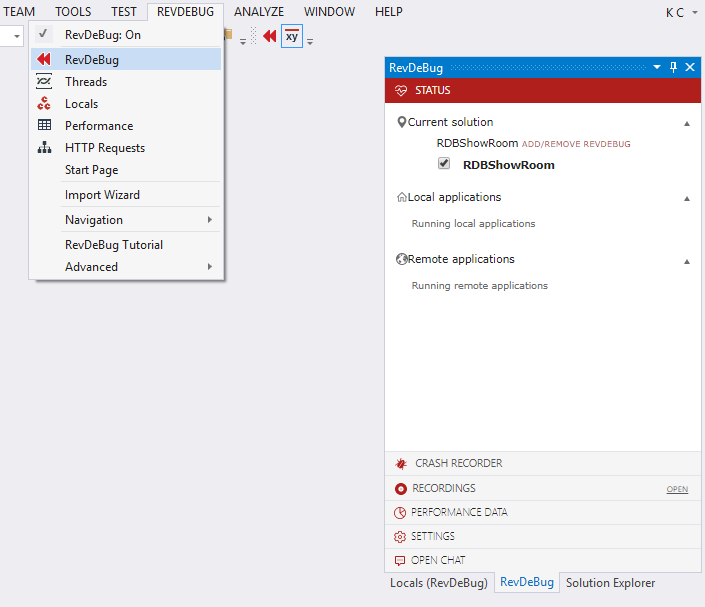 Choose what to record
You can choose what would you like to record. There are a couple of ways: More of a general way by choosing the project that you would like to record. An advanced way by whitelisting elements.
Start recording
In the Status tab you can see the name of your current solution. Here you can choose, which project of your solution you want to record. Make sure, that the project of your interest is checked, otherwise it won't be recorded!
Now, if you start the application, it will show the name of your application under "Local applications". The number next to it indicates how long the application is being recorded for and if any bugs appeared during its execution. Red bug

stands for an unhandled exception, while the yellow one

stands for a handled exception.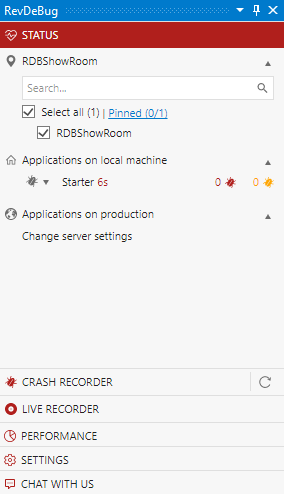 You will also notice a small floating panel, which is very useful when you want to control the recording of an application without the use of Visual Studio.

If you end the execution of your application, the recording will be loaded automatically.
Stop recording
You can stop recording by either closing the application or clicking the red square button inside of the Visual Studio RevDeBug panel.
Navigate through the recording
Once the recording has been loaded the Recordings tab will look like the on the below image.
This view can be used as a tool to preview the execution of your application by clicking on the arrows


You can also jump to specific events, that were executed thanks to the list below.
Filter out exceptions
You can check if there was an exception by filtering it out. If you click on one of the events, you will be moved to the exact place of interest, and the variable values will be overlaid on your code.
Search for a variable value
There is also a search box. You can use it to search for any variable value that has ever occurred either in the currently loaded recording (Advanced Search) or any recording that has ever been made in the past (Global Search)
Find the previous or historical values of any variable
With RevDeBug you can check, which values were assigned to a chosen variable. Moreover, you can analyze every variable in a chosen method.
Simply click on one of the events of a method of your interest in the RevDeBug panel on right side of the screen. You will be moved to the right place in code.
Then, if you choose from menu: RevDeBug > Locals, a window with variables will pop-out. If you click on a red arrow

next to one of variables, its historical values will appear.

Read more about Historical Values
Previous and next execution
With RevDeBug you can also find out what was the previous and next execution of a method, forloop etc. Just click with your Right Mouse Button on code, and choose one of two topmost functions!