Save and Share
Software development is a team game, so might be debugging. Save and share errors recordings with other team members.
Estimated reading time: 1 min
Save and Share RevDeBug recordings
With RevDeBug you can save your recordings and share them with others! For example in the testing environment
And this is how it works for local and remote environments:
From remote environment
If you record your application on production, the recording will be saved on the RevDeBug Server. From there it can be easily accessed by everyone connected to this server, from the Visual Studio!
At local environment
If you get hold of a recording from different source (like another developer), you have to import it to your Visual Studio. It is as easy as following three steps of Import Wizard. You can access it through RevDeBug Menu (RevDeBug > Import Wizard).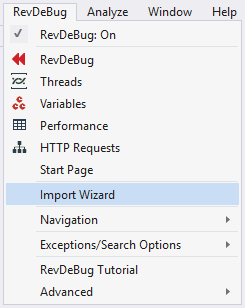 This Wizard will guide you through entering paths to three necessary files: * recording * its metadata * its source file
Recording and metadata files are generated while compiling a program with RevDeBug. They are usually placed in Documents > RevDeBug > project_name with following extensions: * .tmox for the recording file * .tmsx for the metadata
No worries! Most of the time the Wizard will find everything by itself. It will only popup if for some reason, RevDeBug couldn't find one or more of needed files.