RevDeBug Recorder
Dynamically enable or disable recording of your applications WITHOUT Visual Studio
Estimated reading time: 1 min
RevDeBug Recorder is a small application, that comes with RevDeBug. It basically looks like this:

It allows for dynamically enabling and disabling recording of applications compiled with RevDeBug without Visual Studio.
To start using it, you have to have an application compiled with RevDeBug. It is as easy as opening the .exe file of your program generated by building or releasing it with RevDeBug Compiler turned on. The Recorder will open itself automatically.
The other way of working with this feature, is actually through Visual Studio. If you choose the "On demand" option as your Recording Storage Type in RevDeBug Configurator menu, the Recorder will show up, when you start your application in VS.

Now, if you want to start recording, click on the red circle button. If you notice, that this button is dimmed

, your application was not properly compiled with RevDeBug.
If you want to see more information, about what you are recording, click on the chevron icon in the top part of the Recorder

. It will open the advanced view.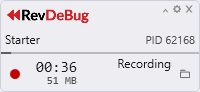 Here you will see the name and the PID of the application you are recording. You can also find out how long or big the file is getting.
To stop recording, simply click again on the red blinking button or close your application. Recording will get compressed and you would be able to access it by clicking on the folder icon

. The default location for recordings can be changed in settings.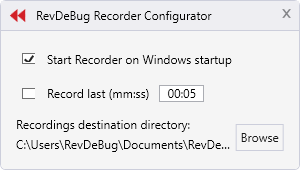 One of the available Recorder functions is retention ("record last" option in settings). It allows you to save a specific amount of recording. For example, if you are interested only in the last five seconds before your program crashed, you can set up retention to five seconds (00:05). Therefore you will get only the most important data, so you can find the reason behind the crash in a matter of seconds.
Go to the next chapter, to learn how to import recordings.