Import Wizard
Import recordings from developers or from production in 3 steps
Estimated reading time: 1 min
If you get hold of a recording from either some developer or from production, you have to import it to your Visual Studio. It is as easy as following three steps of Import Wizard. You can access it through RevDeBug Menu (RevDeBug > Import Wizard).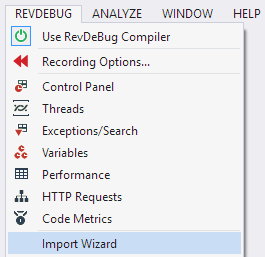 This Wizard will guide you through entering paths to three necessary files: recording, its metadata and its source file. Recording and metadata files are generated while compiling a program with RevDeBug. They are usually placed in Documents > RevDeBug > project_name with following extenstions: .tmox for the recording file, .tmsx for the metadata. If for some reason, RevDeBug coudn't find one or more of these files there, the Wizard window will pop-up and ask you for what is missing.

Go to the next chapter, to learn how to activate RevDeBug.