Security
How can I make sure not to record sensitive data, such as passwords, credit card numbers, etc?
RevDeBug comes with extendible exclusion rules that allow developers to choose what not to record. By default, RevDeBug doesn't record variables with passwords, card numbers, and secret keys, but devs can easily extend those rules. Summarizing: RevDeBug doesn't have to scramble sensitive data or so, because it is not recorded at all.
How secure is my data? Is it secret? Is it safe?
Data is accessible only by developers, that were granted access to the Record Server. The Record Server is an application that manages to record and deploy it on your own premises. In other words, it is as save as you keep it.
Does anyone not permitted have access to the RevDeBug recordings? Is RevDeBug safe?
The recordings are stored on your dedicated Recording Server. Only people within your own organization and with granted access can reach them.
What data is being sent in the Customer Improvement Program?
RevDeBug collects only the usage statistics (ex. What feature have you used, what version of Visual Studio you're using...). It helps us improving our tool and making it more user-friendly. You can opt-out from sending the analytics information at any time by going into Tools > Options > RevDeBug > General > Send Usage Statistic.
Compatible Technologies
My app uses .NET 2.0, would RevDeBug work with it?
Unfortunately, there was not much interest in .NET 2.0 support from our users, therefore, we have decided to focus on other areas of development.
If you need support for .NET 2.0, feel free to contact us at support@revdebug.com.
My app uses .NET 4.0 or later, would RevDeBug work with it?
Yes, RevDeBug support .NET framework 4.0 or later and .NET Core 2.0 or later.
Does RevDeBug support .NET Core?
Yes, it does. RevDeBug supports .NET framework 4.0 or later and .NET Core 2.0 or later.
Does RevDeBug support Xamarin?
Yes, it does. We are proud to say that you can use RevDeBug with your Xamarin applications.
What programming languages does RevDeBug support?
RevDeBug supports .NET projects written in C# and VB.NET. Stay tuned, as there are more languages and platforms to come!
Do you support web apps running on Microsoft IIS and IIS Express?
Yes, we do, and you don't even need to reconfigure IIS to make it work both locally inside Visual Studio and remotely. Just compile your project with RevDeBug and that's it. The next time you access your web app it will stream the recording to the Recording Server and then into your Visual Studio (you don't even have to hit the 'run' button).
Does RevDeBug work with Resharper Incredi Build?
In general RevDeBug works very well with Resharper. The only exception is Incredi Build as our compilator does not integrate with their build. Stay tuned for future updates that may tackle this challenge.
Recordings
What data is recorded by RevDeBug?
We are capturing exceptions with their messages and stack traces, variable values that lead to the exception and code specific events like method enters or exits.
Will my app compiled with RevDeBug still work when my subscription ends?
Yes. You don't need an active RevDeBug subscription to run your application that was compiled with the use of RevDeBug.
How can I see complex types in RevDeBug recording?
RevDeBug does not support this feature right now, only values read or set are being recorded. With full complex types being recorded, the recording tended to get overwhelmingly large. We will certainly add this functionality in the future - once we make sure, that it will work perfectly for everybody.
Performance
How much slower will my applications run with RevDeBug?
RevDeBug does not inspect everything the Virtual Machine is processing, but only parts that were instrumented beforehand. Which allows fine-tuning of what you record and what slowdown you can expect.
There are two main recording modes - Crash Recorder and Live Recorder.
Crash recorder performs really well in the production environment for constant monitoring of your applications and bug reporting. It will send the last N amount of steps the application took before crashing. (it does not matter if you have 1, 5 or 10.000 applications deployed) the performance overhead you can expect is around ~5%.
The Live Recorder records everything that happens in your application without the limitation of steps back you can take and sends it on the go to your recording server. If there is a lot of data manipulation taking place in memory, recording such data to disk, which RevDeBug does, will make your application run slower. Average slowdown we have observed is between 40% to 7 times.
Below are results of running unit testing suites of various Open Source projects to give you overall feel about performance penalty:
NInject (dependency injection framework)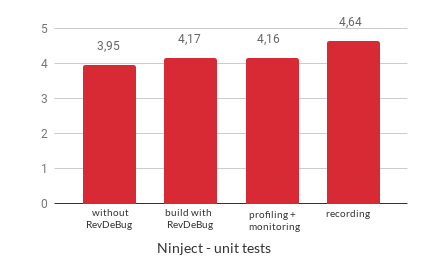 HearthstoneDeckTracker (WPF desktop app)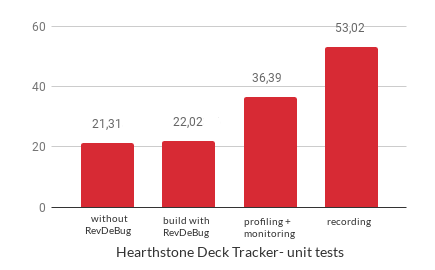 SocialGoal (MVC 5 Web app)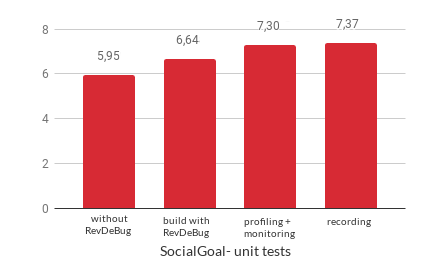 ---
Requirements & limitations
What are requirements of RevDeBug?
Please refer to Requirements page.
What are current limitations of RevDeBug?
Please refer to "Limitations" and "Known issues" sections on Requirements page
---
Other
How does RevDeBug work with Code Pattern Analysis?
RevDeBug temporarily disables the Code Pattern Analysis, when used to build the solution. Unfortunately, we don't play very well with it yet. If you rebuild your solution without the use of our compiler the Code Pattern Analysis should be re-enabled.
---